When facing the often challenging and emotionally fraught process of divorce, individuals have numerous questions. In the Silver State of Nevada, one of the most common queries is, "Is Nevada a no-fault divorce state?" The answer is straightforward: Yes, Nevada is a no-fault divorce state, meaning that neither party needs to prove any reason for the dissolution of marriage other than incompatibility. This distinction significantly simplifies the divorce process, allowing couples to focus more on how to best navigate their separation rather than dwelling on the past. But there's another aspect to consider: how can the process of divorce be made less adversarial, more respectful, and ultimately, more successful for everyone involved? Enter the Nevada Collaborative Divorce Professionals and their innovative approach to divorce.
The Collaborative Approach to Divorce in Nevada
Collaborative Practice is a dispute resolution model that aims to resolve disputes amicably, without resorting to the courtroom. It is not just a legally-focused process, but rather a holistic approach that acknowledges the significant, often overlooked, impacts of divorce on personal health and financial matters. Collaborative Practice centers on cooperative strategies rather than adversarial techniques or litigation.
A divorcing couple works with a team of trained professionals, including attorneys, mental health professionals, and financial experts. These Collaborative Teams guide and assist the parties in resolving their conflict, operating entirely outside of the court system. Unlike the traditional litigation model, the Collaborative Divorce process aims to reduce the stress, time, and expense typically associated with divorce.
How Collaborative Divorce Works
The journey begins with a signed participation agreement, wherein both parties pledge not to go to court and commit to common sense reasoning and creative negotiations to reach a mutually acceptable divorce settlement. The teams work through private meetings and communications in an open, non-confrontational setting. The emphasis is on keeping the parties in charge of their resolution.
The Collaborative Team provides appropriate options, solutions, and compromises, but it is the parties themselves who decide the terms of their divorce, not the lawyers or a judge. If a full agreement cannot be reached, both parties must begin the divorce process again with new attorneys and other professionals, an incentive to work hard to reach a resolution.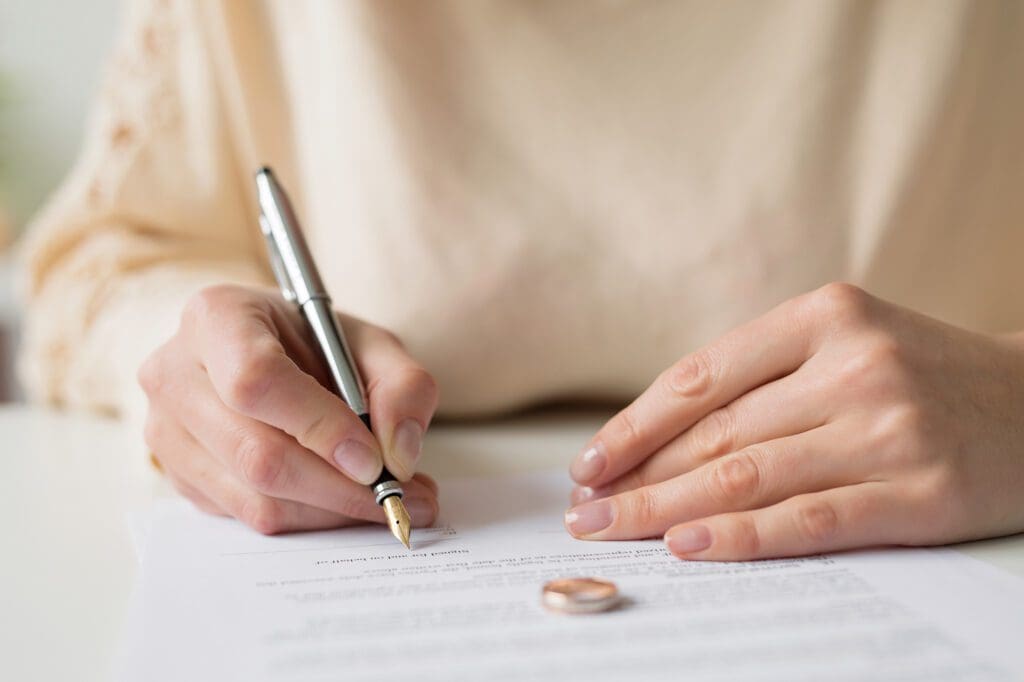 The Collaborative Team: A Multifaceted Approach
The Collaborative Team is a combination of legal, mental health, and financial professionals. They guide and support the divorcing couple as problem-solvers, not adversaries. Let's explore the three facets:
Legal Aspect: A divorce or family law attorney handles the legal aspects of the divorce to ensure that all arrangements are proper, legal, and binding.
Emotional Aspect: A Divorce Coach, typically a licensed Marriage and Family Therapist, Psychologist, or Licensed Clinical Social Worker, teaches problem-solving and communication skills to facilitate productive dialogue and moving through impasses.
Financial Aspect: Financial Specialists, including CPAs, Certified Financial Planners™, or Certified Divorce Financial Analysts, specialize in the financial and tax aspects of divorce. They help both parties reach a mutually acceptable financial agreement while assisting in making manageable, long-term decisions.
Embracing a Better Way Forward
In conclusion, Nevada's status as a no-fault divorce state simplifies the divorce process. Yet, the Nevada Collaborative Divorce Professionals seek to take it a step further, transforming the divorce journey into a respectful, cooperative process. By focusing on collaborative strategies and involving a multi-disciplinary team of professionals, they ensure a resolution that respects the emotional, financial, and legal facets of divorce, placing the power back into the hands of the divorcing parties.
Should you find yourself navigating the path of divorce, the Nevada Collaborative Divorce Professionals are a team of premier Nevada divorce attorneys and stand ready to help you achieve an amicable agreement that benefits all parties. It's time to redefine the divorce narrative from adversarial to collaborative, one respectful resolution at a time.
Disclaimer: This blog post is intended for informational purposes only and does not constitute legal, financial, or therapeutic advice. Please seek appropriate professional consultation for personal matters related to divorce.